PLM Implementations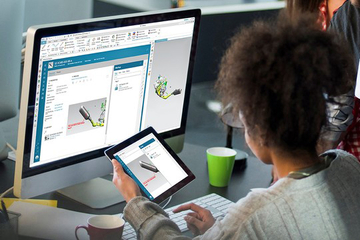 The team of our top PLM specialists provides complex services in PLM Teamcenter installation, implementation and configuration including integration to CAD, CAM or ERP systems. Our team of programmers expands the PLM customization and implementation services according to specific customers' requirements and offers the development and management of other utilities for CAD, CAM, PLM and other systems.
PLM Teamcenter implementation services offered
In form of services, we provide either complex PLM implementation or partial sub-deliveries of complex PLM projects. We provide service and gradual development of the applied solution. Thanks to our experience and capacities we provide following services in PLM Teamcenter areas (Rich Client, Active Workspace):
Installation
Configuration
Integration to CAD NX, SolidEdge, Inventor, SolidWorks, Creo, CATIA etc.
Workflow
Customization such as:

Automatic bulk print to PDF
Utility for data export and import
Tools for bulk data processing and editing

PLM-ERP connection to different systems (SAP, Helios, Navision, MS Dynamics AX, Abas, QI, QAD etc.)
Extension programming in Java, C++, NET, JavaScript
Applications and utilities of NX CAD/CAM and SolidEdge systems such as:
Generation of drawing documentation according to specification
Bulk conversions (step, igs, 3D pdf, pdf, dxf, dwg)
Bulk prints
Electrode generation
Automatic definition of ramps and measurements for machining
Validity and completeness check of CAD data and its attributes
Adding functionality to the Open, Save, etc. action
Training, consultation
Service support
Special implementation (Medical Device Solution, PCM, Plant Simulation)



The biggest PLM team
We have the biggest and most experienced team of 6 PLM Teamcenter consultants and 4 PLM programmers in the Czech Republic. Over 15 years of experience we have realized more than 30 projects of PLM Teamcenter implementation and have been taking care of more than 50 customers. All our consultants have more than 5 years of experience with PLM projects.
Opportunities for cooperation
We offer the implementation of entire projects or partial sub-deliveries in the form of a fixed price project offer or in the form of operational cooperation on the basis of a service contract. A usual project implementation is remote, we travel to the customer when needed or requested. In order to protect the intellectual property of both the partner and the customer, we enter into standard NDA agreements.
Interested in the PLM support or need more information? Don't hesitate to contact us and we will be happy to show you more.